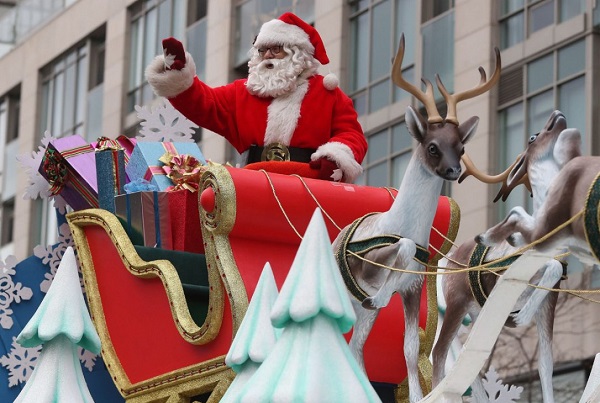 Santa Claus makes his way down the parade route at the annual Santa Claus Parade in Toronto on Nov. 19, 2017. PHOTO:TORONTO STAR
People watch the 113th Toronto Santa Claus Parade in Toronto, Canada, Nov. 19, 2017. PHOTO:XINHUA
With the participation of 22 bands, 25 floats and thousands of participants, the 113th annual Toronto Santa Claus Parade kicked off in Toronto on Nov.19, 2017, which drew thousands of Torontonians to watch. From the early hours of Sunday morning, thousands of Torontonians hunkered down on curbs, church steps, restaurant stoops and rooftops.
The Santa Claus Parade in Toronto, Ontario has been spreading Christmas joy for over 100 years!
The parade has been a highlight on the calendars of tiny Toronto revelers since 1913!
Spectacular floats leave the corner of Christie and Bloor Streets along with marching bands, dancers, prancers and costumed characters all cheered on by hundreds of excited Santa fans along the 5-kilometre route.
You just never know what the weather will be like on Parade day. So pack lots of layers. Fill a backpack with gloves, scarves, and hats. Santa takes his time and you can get cold waiting – so come prepared.
No matter where you stand along the route, you'll see the parade in all its glory. Just be sure to arrive early. Spots fill up fast.
The designated physical disability viewing area is on University Avenue at College Street.