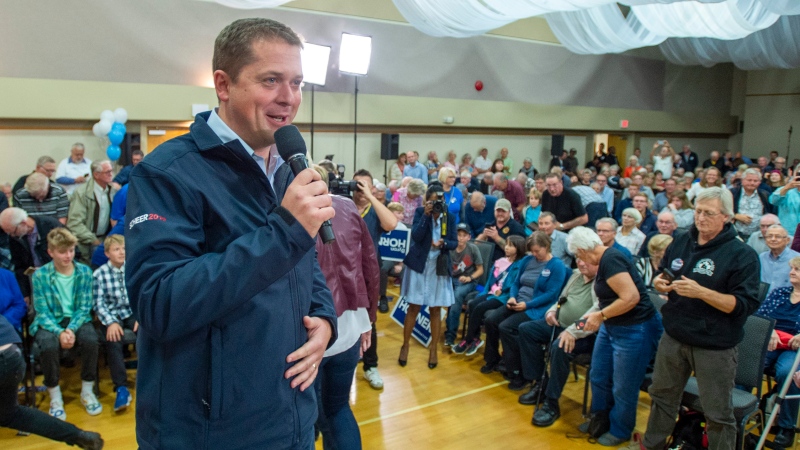 Scheer is attacking Trudeau's claim that the two tax breaks didn't really help Canadian families.
Last week, Scheer also pledged to bring back another Harper-era tax cut that Trudeau has done away with: the transit tax credit, worth up to 15 per cent of the cost of monthly or annual transit passes.
The Liberals have built much of their re-election effort on telling Canadians that Scheer will just bring back the Harper government Canadians rejected four years ago.
The Kelowna--Lake Country riding Scheer campaigned in Monday was a Conservative stronghold, won by the Reform, Canadian Alliance or Conservative Party every election since 1997 until Liberal Stephen Fuhr nabbed a win in 2015.
Scheer has so far campaigned entirely in ridings he wants to pick up from either the Liberals or the NDP.
Monday afternoon he travelled to Calgary Skyview, one of two ridings the Liberals won in the last election -- the first time in almost half a century Liberals won seats in the Alberta city.
His arrival in Calgary was delayed almost an hour by a plane mishap. Scheer's chartered Air Canada plane touched down safely but then sat on the tarmac for an hour and had to be towed to the parking zone because the ground steering equipment had a problem. Conservative staff said there were also two planes blocking the way for Scheer's plane to get through.
The staff expected the plane could be repaired while Scheer toured the riding, where his first stop was a roundtable with some female business owners and later a small rally at the local candidate, Jag Sahota's campaign office. A crowd of about 150 people were on hand to greet the Conservative Leader.
Calgary Skyview is an open seat. Darshan Kang won as a Liberal in 2015 but was removed from the caucus over allegations of improper behaviour with staff. He sat as an Independent, but is not running again.
Andrew Scheer in Kelowna pledges to bring back two Harper-era boutique tax credits.
Children's Fitness Tax Credit:
- Allow parents to claim up to $1000 per child for expenses related to fitness
- Parents of children with disabilities can claim + $500 /child / year pic.twitter.com/wdggSfXLQq
— Omar Sachedina (@omarsachedina) September 16, 2019
Second boutique tax credit Scheer announces:
Children's Arts and Learning Tax Credit:
- Allow parents to claim up to $500 per child for expenses related to arts and educational activities
- Parents of children with disabilities can claim up to $1000/child/yr#elxn43
— Omar Sachedina (@omarsachedina) September 16, 2019