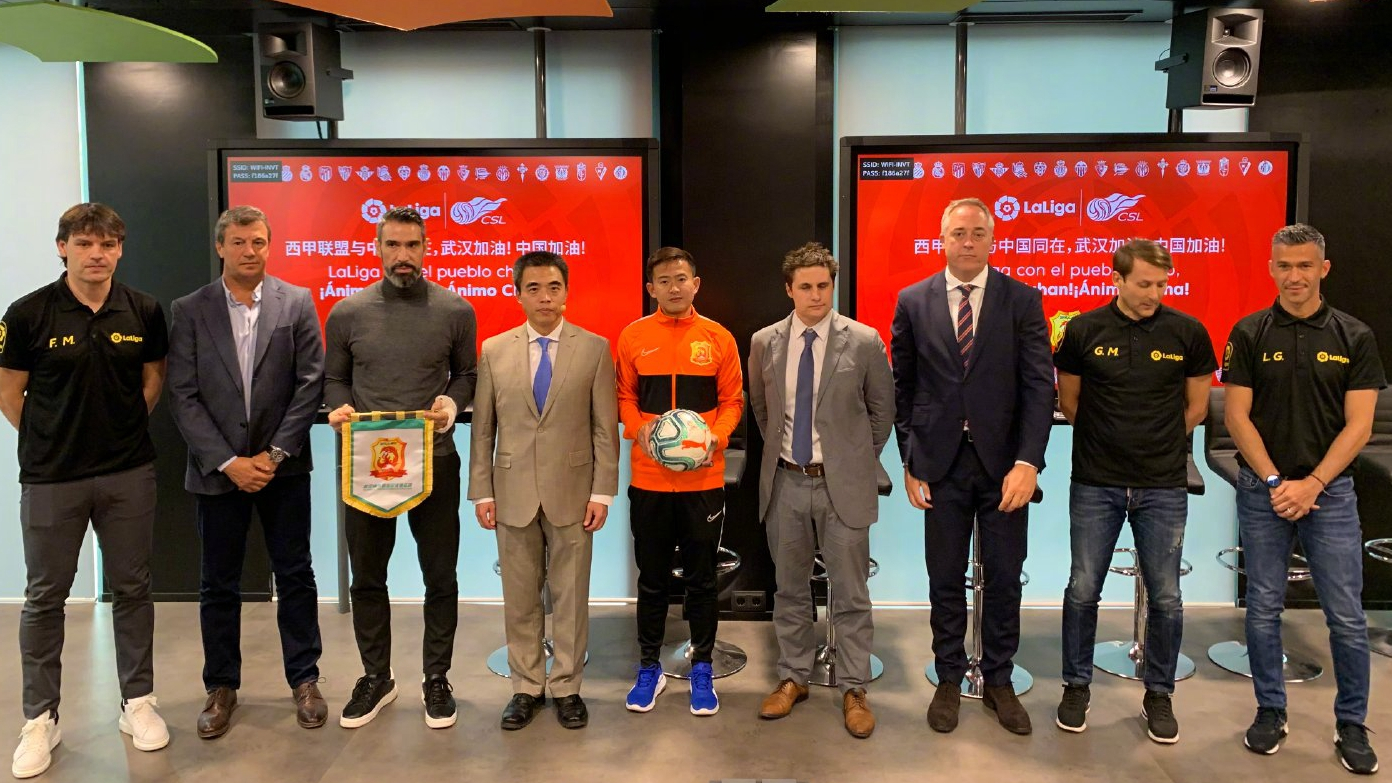 "It has not been easy for any of us players," Wuhan Zall football club captain Yao Hanlin remarked of the substantial psychological toll of coming to terms with the sudden, devastating outbreak of COVID-19 that was first detected late last year in his hometown.
The statistics make for grim reading. By the end of Sunday, the total confirmed cases on the Chinese mainland had reached 80,026, of which 44,462 have recovered and 2,912 have died. Wuhan, the epicenter of the coronavirus outbreak, remains in lockdown.
"We miss our friends and especially our families back in Wuhan because it's them who are going through an extremely hard time. I hope they will persevere in order to go back to normal and get better as soon as possible," Yao added.
The 34-year-old veteran was speaking at an event organized by Spanish football league La Liga, who invited the whole Wuhan Zall team to its head office in Madrid as a warm gesture to express unity in the face of the deadly virus. La Liga also announced that it will donate five tons of disinfectant to Wuhan.
"In this fight against the coronavirus, we have had support and solidarity from nearly all of the world, and from Spain... This support will remain in the hearts of the Chinese people," said Yao Fei, Charge d'Affaires of the Chinese Embassy in Spain.
Wuhan Zall have been conducting their pre-season campaign in Andalusia in the south of Spain since January and have stuck in the region since the new Chinese Super League season was postponed due to the outbreak.
The whole squad attended 'El Clasico' on Sunday night at the Santiago Bernabeu Stadium where Real Madrid moved a point clear of Barcelona at the top of the league after a crucial 2-0 win. Notwithstanding the thrilling experience, Yao Hanlin insisted their sole wish is to return to the tragedy-stricken Wuhan.
"We've been here for over a month but we actually left Wuhan two months ago," he said. "We have been working very hard in training here every day. Our only goal is to be back and bring joy to our supporters."
It was a sentiment echoed by Zall head coach Jose Gonzalez, who showered his players in glowing praise.
"They have been training without knowing when the league will start again, coping with family problems back home," observed Gonzalez. "It would be very easy to disconnect from your profession, very easy, but they have been giving a spectacular lesson of professionalism."