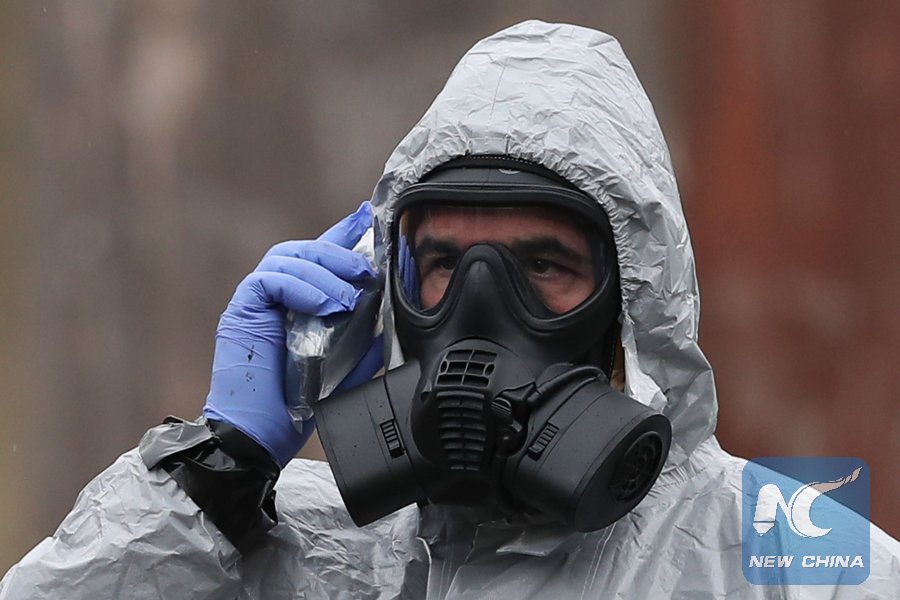 A military personnel speaks on a device wearing protective coveralls as he works to remove vehicles from a cordoned off area behind a police station in Salisbury, southern England, on March 11, 2018, as investigations and operations continue in connection with the major incident sparked after a man and a woman were apparently poisoned in a nerve agent attack a week ago. (Xinhua/AFP)
OTTAWA, March 26 -- Canada's Foreign Affairs Minister Chrystia Freeland on Monday announced to expel four Russian diplomats working in Canada and reject three applications for additional diplomats over the alleged nerve agent attack on an ex-spy in Salisbury, Britain.
"The four have been identified as intelligence officers or individuals who have used their diplomatic status to undermine Canada's security or interfere in our democracy," Freeland said in an announcement.
The four Russian diplomats are working at the Embassy of the Russian Federation in Ottawa or the consulate in Montreal.
She said the move is in solidarity with the United Kingdom over the alleged nerve agent attack in Salisbury on former spy Sergei Skripal and his daughter.
"The nerve agent attack in Salisbury, on the soil of Canada's close partner and ally, is a despicable, heinous and reckless act, potentially endangering the lives of hundreds," Freeland said.
"This is part of a wider pattern of unacceptable behaviour by Russia," added the minister.
The Canada's move came as the United States and several EU nations took diplomatic actions against Russia.
(Xinhua)